Department of Philosophy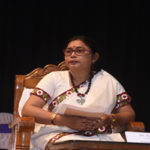 Dr. Kuheli Biswas
Head of the Department
Assistant Professor
Departmental Phone No.

9432855941/6291971159/7890134723

Departmental E-mail Address






Philosophy, the mother of all branches of human knowledge is regarded as the best of all the Muses. The roots of all the trends of modern thought as well as the Post Modern can be traced in Philosophy. Tremendous advance in Modern Science and Technology has not in any way made Plato-Aristotle back dated and the Vedas and the Upanishads obsolete. In fact, Philosophy in the essence of all cultures even of Engineering, Commerce as well as Agriculture. Philosophy is the instrument in the mind of man for the emancipation of mankind. Ours in the university near to Nawadwip, once designated the Oxford of Asia and neighboured by Bhatpara (Bhattapalli) the severed citadel of Indian Studies and culture. Great Ideologist and founder of Asiatic Society used to visit these places for being instructed by the Indian Scholars. Keeping in mind this glorious tradition of their soul this department contemplates to focus on the thought that brings East and West nearer and haves the path for universal manhood.
Hence, in addition to the present course taught in Nyāya, Logic (Special paper), we like to introduce Contemporary Indian Thought, like, Rabrindranath, Vivekananda, K.C. Bhattacharya, by bringing out relevance to the present day cultural crisis. As for the Western thought, Marxism, Phenomenology and Existentialism to be taught to help this generation realize proper essence of Nationalism and loves for the country at Universal background.
Our department is a lively centre of higher education and research. Academic activities like taking up of editing book and papers, organization of seminars/symposium have been a mark of the department over the years. State level, National level, and international level seminars and special lectures by well-known scholars are held regularly in the department.
Programmes offered
| Sl. No. | Programme | Duration | Intake capacity | Admission criteria |
| --- | --- | --- | --- | --- |
| 1 | M.A. in Philosophy | 2 Years | 60 | Philosophy Honours |
| 2 | M.Phil. in Philosophy | 2 Years | 2 | Philosophy Honours and Masters. |
| 3 | Ph.D in Philosophy | 5 Years | 4 | Masters in Philosophy |
Faculty Profile(Alphabetical Order)
Department Details
Western & Indian Logic (Buddhism, Vedànta, Nyàya), Comparative Religion and Aesthetics, Ethics (Indian & Western).
The department is housed in a part of a four-storied building.
Four classrooms
High Speed Internet connected to the central server and digital library
Separate toilets for boys and girls.
One Ph.D course work class room
Chamber of Head of the Department with printer,
PC, Internet and Online Meeting facility
Office room equipped with photocopier, printer, water purifier and refrigerator.
Ongoing: A Brief study on Neutrosophic Logic
Completed:NA
Full Time: 1) Amal Das
Part Time:
1)Barun Ghosh
2) Namramita Bhuniya
3) Manisha Rajak
With the Department of Sanskrit, KU.
ONE DAY SYMPOSIUM ON
SWAMI VIVEKANANDA AND HIS THOUGHTS – A FRESH APPRAISAL
HELD ON 25.03.2013