Ion GeneStudio S5 System
The Ion GeneStudio S5 System is a semiconductor-based next-generation sequencing (NGS) system that enables simple targeted sequencing workflows. The Ion GeneStudio S5 System is optimized to provide affordability for labs focused on smaller panels and lower sequencing throughput requirements. With cartridge-based reagents, the system is simple to use and offers scalability and flexibility. It uses Ion 5 Series chips to support a broad range of high-throughput sequencing for clinical research and research applications from microbial genomes and gene panels to exomes and transcriptomes.
Key features:
Select the chip (Ion 510–540 chip) that fits your application and throughput needs to achieve from 2–80 million reads per run
Reduce setup time and complexity with cartridge-based plug-and-play reagents
Complete run and analysis in hours and move forward with your experiments
Source: https://www.thermofisher.com/order/catalog/product/A38194#/A38194
APPLICATIONS:
Low input DNA from challenging sample types such as formalin-fixed paraffin-embedded (FFPE) tissue, retrospective samples from fine needle aspirates, and cell-free DNA extracted from blood (cfDNA) can be difficult to sequence on competitor next-generation sequencers.
However, with Ion AmpliSeq technology and the
Ion GeneStudio S5 Series, you can use as little as 1 ng input DNA or RNA.
Uses:
High-throughput sequencing for clinical research and research applications from microbial genomes and gene panels to exomes and transcriptomes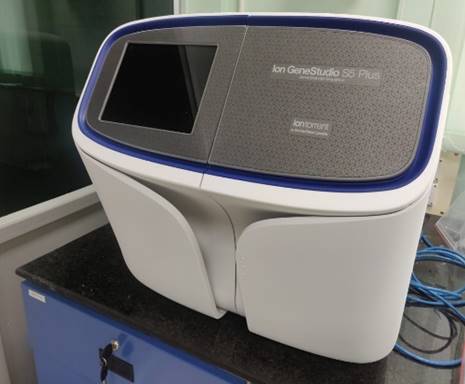 Items
Charges for in-house Users, KU
Charges for External users
16S

Metagenomic Sequencing

Rs. 4000/-
7000/-
NB: Will be run only on getting reasonable samples number (~16)
Targeted

Resequencing

Upcoming
Upcoming
Transcriptome

sequencing

Upcoming
Upcoming