Department of Physiology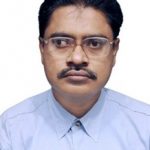 Dr. Subhashis Sahu
Head of the Department
Associate Professor
Departmental Phone No.

(033) 25828750 Extn -312
Fax. No : + 9133 – 25828282
Department of Physiology, University of Kalyani was established in October, 2005. Two-years Master of Science (MSc.) course in Physiology started with a batch of 10 students from the academic session 2005 – 2006 and the first batch of MSc. students passed out in 2007. The Department of Physiology also offers Ph.D. programme in Physiology since 2007.
Definition of Physiology:
Physiology; from Greek words (physis), meaning "nature, origin", and (-logia), meaning "study of", is the scientific study of function in living systems. This includes how within organisms, organ systems, tissues, cells and bio-molecules carry out the chemical or physical functions that exist in a living system. Physiological investigations range from examining the molecular basis of life to understanding the integrative functions of biological systems and their responses to external and internal environments. Physiology enables information gained by molecular biology, cell biology, genetics, pharmacology, biophysics, biomathematics, and biochemistry to be described in an integrated manner that can be applied to human medicine. The study of human physiology dates back to at least 420 BC and the time of Hippocrates, also known as the father of medicine. The highest honour awarded in physiology is the Nobel Prize in Physiology and Medicine, awarded since 1901 by the Royal Swedish Academy of Sciences
Programmes offered
| Sl. No. | Programme | Duration | Intake capacity | Admission criteria |
| --- | --- | --- | --- | --- |
| 1 | MSc | Two Years | | |
| 2 | Ph.D | | | |
Faculty Profile(Alphabetical Order)
Department Details
| | | | | |
| --- | --- | --- | --- | --- |
| Type of Course / Programme | Name of the Course / Programme | Duration | Intake Capacity | Eligibility |
| i) Post- graduate | MSc. | 2 years (divided in 4 semester) | 15 | 3 year B.Sc. (Hons) in Physiology with requisite marks. |
| ii) Doctoral | Ph.D. (Sc.) | As per University Norms | As per University Norms | M.Sc. in Physiology / in allied Disciplines |
Class room teaching with all modern facilities.

Well equipped Physiological Laboratories

Histology laboratory

Physiological Chemistry laboratory

Experimental Physiology laborator

Computer Laboratory with internet access.

Departmental library

Research laboratories.
Environmental Physiology Division- Toxicology, Environmental Microbiology, Molecular Neurophysiology Unit.

Ergonomics and Occupational Health laboratory

Pool of Guest Teachers having renowned Physiological Scientists and Academicians.
Three research Scholars of this department have been awarded travel grant (GBP 1000 each) by the International Union of Physiological Sciences (IUPS) for presentation of paper in IUPS Congress 2013 scheduled to be held at Bermingham, UK during July 21 -26, 2013
Name of the Scholars:
i) Shri Kaushik Sarkar
ii) Smt Panchali Tarafder
iii)Smt Mouri Ghosh
Shri Subhabata Moitra, Research Scholar of this department has been awarded travel grant by European Respiratory Society for presentation of research paper in 22nd Annual congress in Vienna, Austria which was held from 1st to 5th September, 2012.
Environmental Physiology Division Kaushik Sarkar
Mouri Ghosh
Panchali Tarafder
Partha Pratim Nath
Mukti Mondal
Kamalesh Das
Suban Baskey
Diptendu Sarkar
Borjendra Laishram
Ergonomics and Occupational Physiology Laboratory
Subhabatrata Moitra
Santi Gopal Maity
Prasun Halder
Arijit Chakraborty
Santu Durlov
Smaranika Goswami
Photo Gallery ( Click Here…..)