Department of Sanskrit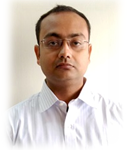 Dr. Anindya Bandyopadhyay
Head of the Department
Assistant Professor
Departmental Phone No.

(033) 2582 8750, (Ext. 368, 387)

9477144708

Departmental E-mail Address

hodsanskrit@klyuniv.ac.in
The significance of Nabadwip in Nadia District (West Bengal) as a seat of learning is well-recognized since the time of Mahāprabhu Chaitanya. Students and scholars from different parts of India used to flock to this holy place for both spiritual and academic pursuits.
It is, however, regrettable that since the time of our independence, this traditional centre has almost lost its esteem and dominance in the feat of learning. In addition, currently there is only a handful of Ṭol-s (Traditional Sanskrit School) left according to the Government Records when most of them are not even well-equipped to provide traditional learning with the changing dynamism of our society.
For thriving around the vicinity of Nabadwip, Kalyani University has decided to carry forward the baton of its glorious past and introduced the Post Graduate Department of Sanskrit in its own campus during the academic year 2011-12.
The Department started with twenty (20) students who got admitted to the course on 30th August, 2011 and classes started on the very next day i.e. 1st day of September. Now the Department has sixty-three (66) seats.
Programmes offered
| Sl. No. | Programme | Duration | Intake capacity | Admission criteria |
| --- | --- | --- | --- | --- |
| 1 | MA | 2 Year | 66 | Honors in Sanskrit |
| 2 | PhD | 5 Year | 04 | M.A. in Sanskrit |
Faculty Profile(Alphabetical Order)
Department Details
Dharmaśāstra & Asthaśāstra (Ancient Indian Law and Society)
Mimamsā Rules of Interpretation
Hindu Law
History of Codification of Hindu Law
Nyāya Theory of Epistemology
Manuscriptology
Departmental Library
04 Computers
Ongoing: NIL
Completed: NIL
Full Time: 01
Part Time: 02
Seminars/ Workshops
Teachers Day Celebration
Sanskrit Day Celebration