Centre for Information Resource Management
A HUB OF ICT ACTIVITIES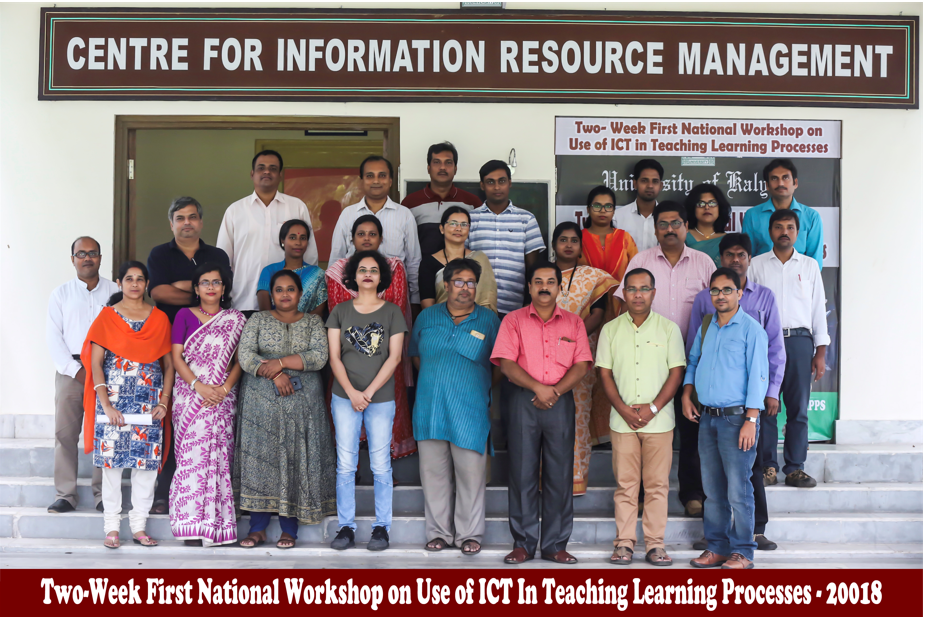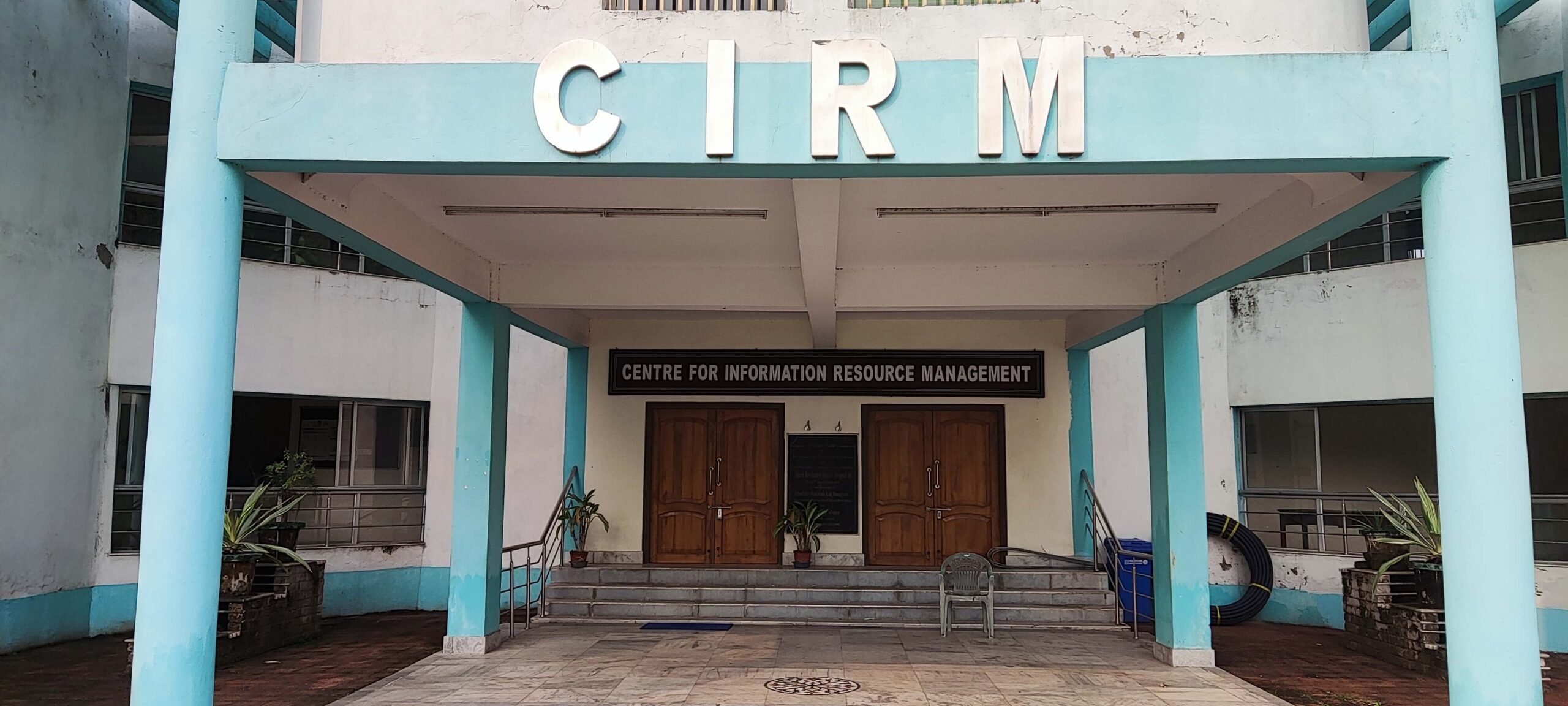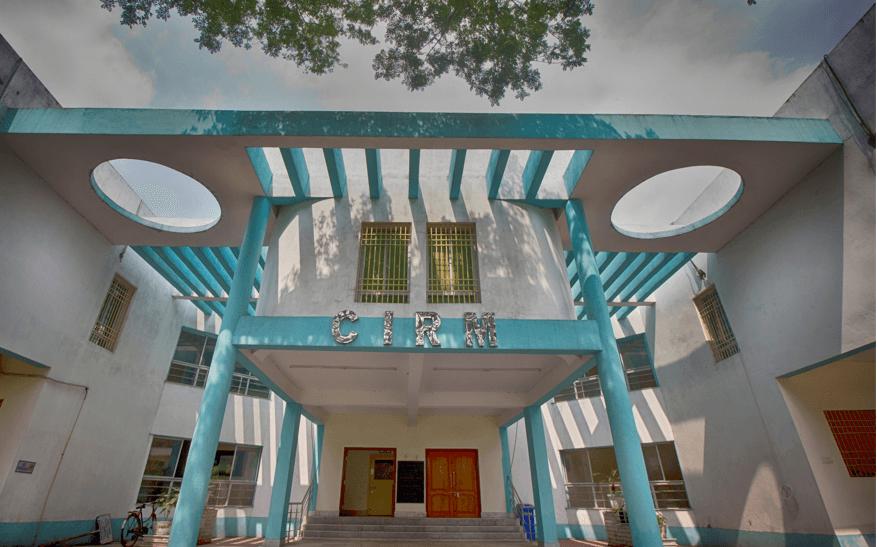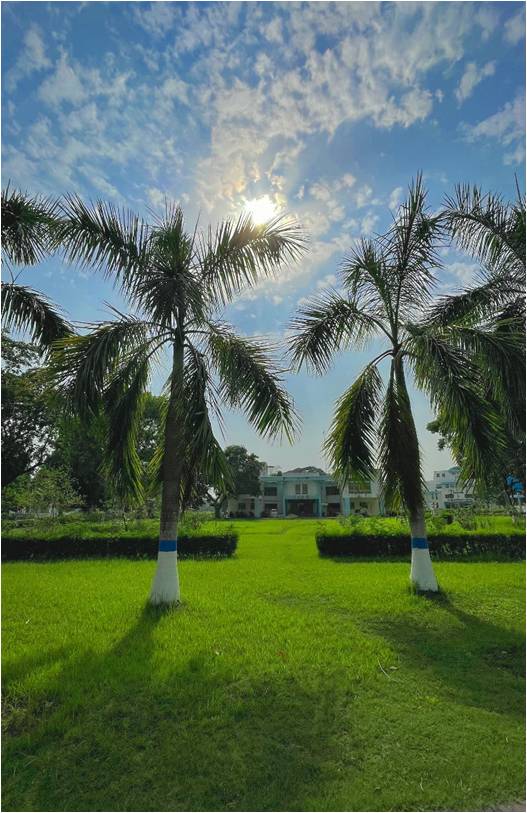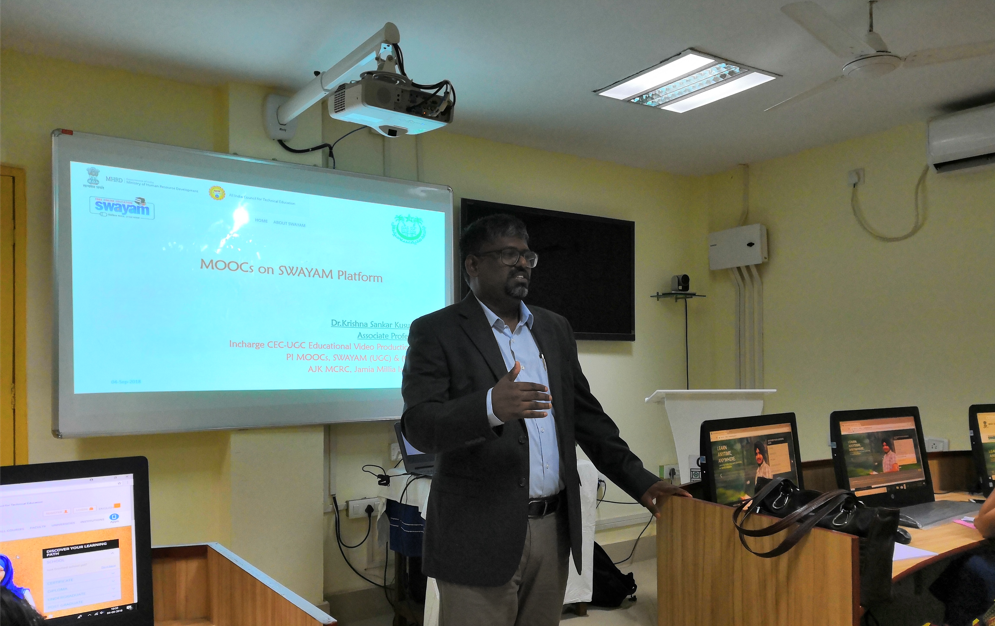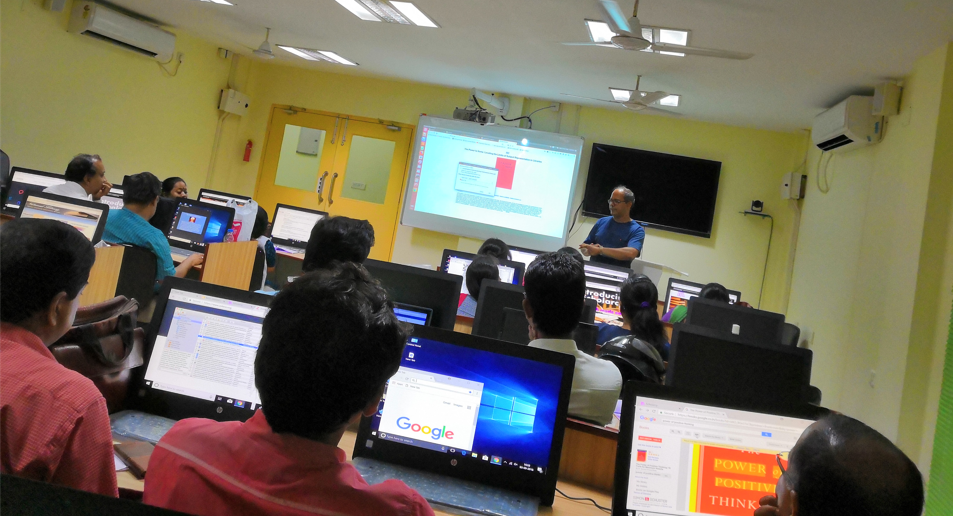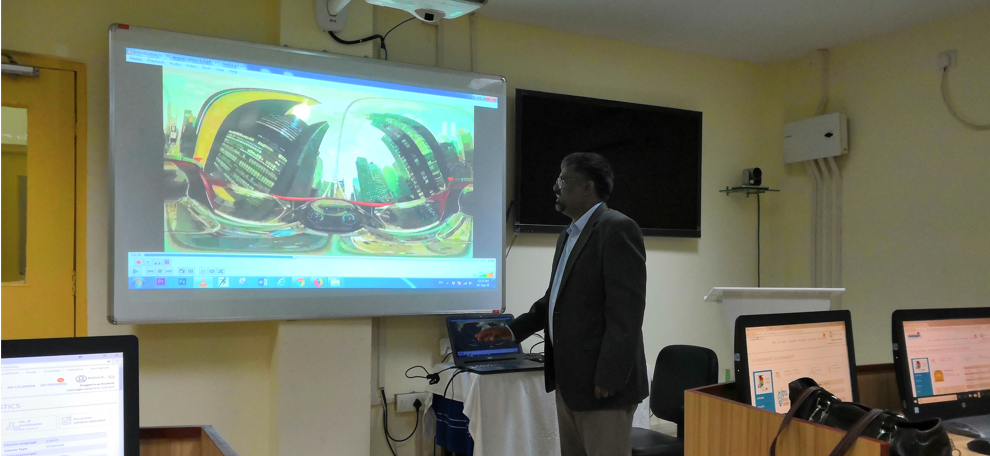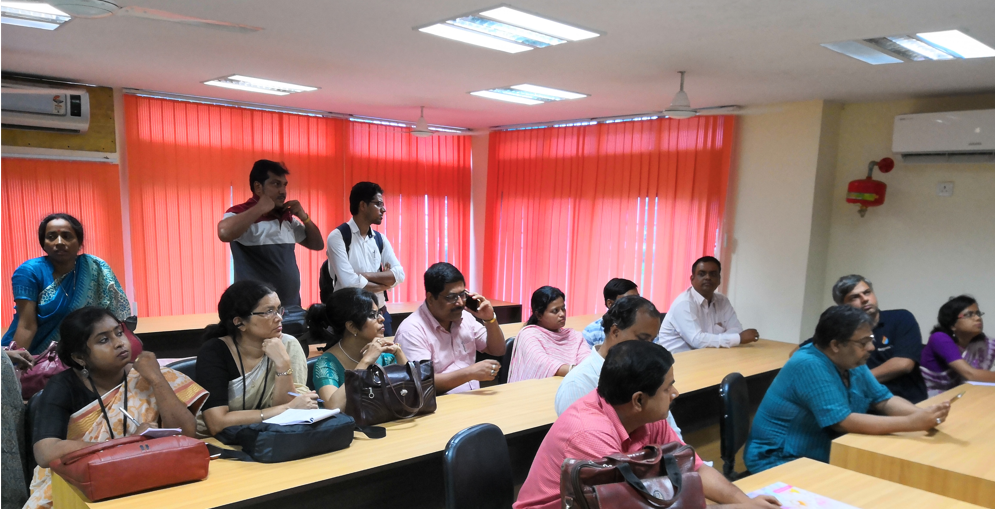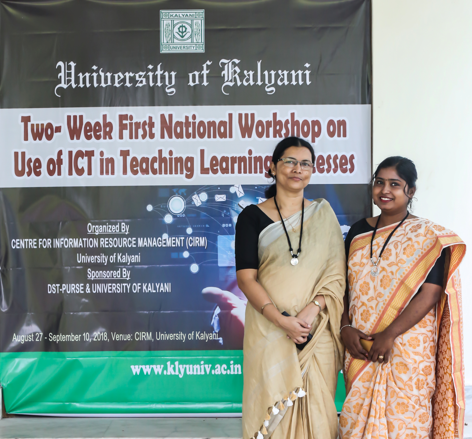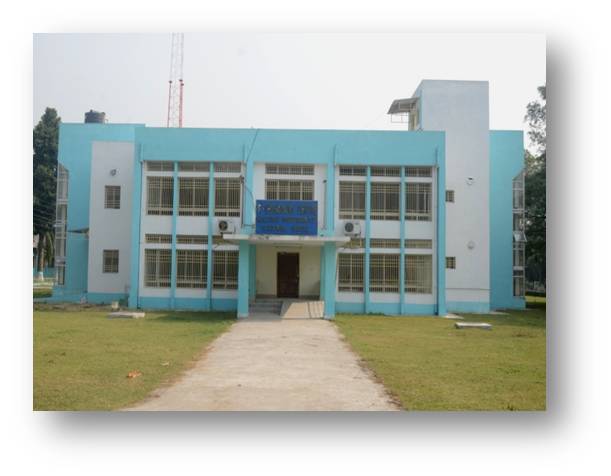 The Internet Centre was established in the year of 13th June 2002 with monetary help from the MPLAD ( Member of Parliament Local Area Development) fund of the Hon'ble Rajya Sabha Member Professor Bharati Roy, the noted Academician. The Centre was inaugurated by Professor Roy on June 13, 2002. The Executive Council in its 8th meeting of the 6th Executive Council held on 22nd March 2007 approved the renaming of the "Internet Centre" as "Centre for Information Resource Management (CIRM)". The newly CIRM was Inaugurated by Professor Debesh Das, Minister-in-Charge, Department of Information Technology, West Bengal on December 03, 2007. The Centre for Information Resource Management (CIRM) caters to the ICT requirements of the University. Since its inception, the Centre has evolved from a small computing facility to a critical central facility of the University. The Centre actively supports the University in leveraging ICT for modernization of education, research environment and transparent governance. CIRM shifted to the new E-Technology building in December 2015, which was inaugurated by His Excellency Sri Ksesharinath Tripathi, Governor of West Bengal. Today, the Centre offers its services to the faculty members, research scholars, and students staff of the university through a campus area network of more than 800 terminals.
The Centre for Information Resource Management(CIRM) has implemented a campus Local Area Network (LAN) with optical fibre GB backbone connecting the academic as well as administrative departments spread over the entire university campus. The CIRM is also providing the Internet facility on a clock basis to all users in the university including teaching, administrative staff, research scholars and students. Internet connectivity is provided throughout the campus with 1GBPS OFC Link (through the NMEICT project under MHRD). Campus LAN has also been set up to spread the LAN connectivity to the Research Scholars Hostels.
At present, CIRM maintains the web server, mail server, DHCP server, proxy server and anti-virus server of the University. Besides these servers, this centre has a number of high performance computing facilities, state-of-the-art servers and Windows laboratories and different advanced application software. Users can use the computing resources of the university from their departments. Labs and Research Scholar hostels are also provided computing facilities through wired Gigabit LAN connectivity. Additionally University's digital EPABX system is also monitored by the CIRM. The technical team of CIRM also extends its help to students and other users for immediate troubleshooting of network connectivity issues of their Personal Computers and peripherals.
Activities
Providing Central Computing facility and internet (24X7) to all users of our university
University website design,development and maintenance time to time.
Management of university campus LAN with Internet and intranet facility.
Organizing training programmes for the faculty members and in-house staff of the university from time-to-time
It also maintains the Web Server, Mail Server, Proxy Server, DHCP Server, and Anti-virus Server
Maintain Prowess Server, MATLAB Server of the University.
Organizing lab sessions for regular courses and workshops for the user departments.
It also maintains the IP-EPABX intercom facility of the university.
Troubleshooting support in resolving network related problems at end user side.
Providing E-Notice services to help in reducing paper work, time taken for movement of papers in official work and better utilization of human resources.
Online access to e-journals and database via the public gateway of the university hence users are free to access the e-resources on any PC in campus.
Providing E-Resources (Journals/E-Book etc) beyond the campus
Providing mail accounts with Kalyani University's domain name (klyuniv.ac.in) to faculty members, administrative staff and Research scholars.
Printing and scanning facility is also available for students and faculty members through high-speed printers and scanner.
Anti-virus and End Point Security (EPS) is provided at the server and the gateway level for email and web services. Moreover, all computers in the university that have been provided with connectivity are to have an anti-virus product installed on them with virus subscription updates.
Installation of WiFi network in university campus to offer high-speed 24×7 Internet access.
Centre also inspects the unethical use of computing facilities.
To train end-users on computer literacy and offer end-user computing support.
Extends ICT Supports e.g. Multimedia projector etc. to seminar, symposia hosted by University time to time
Advising the University authorities on all ICT matters.
Planning, implementation and development of ICT infrastructure.
To identify, acquire and install relevant ICT resources and implement the technology transfer University-wide
Provision of quality ICT services to the Kalyani University.
To offer technical advice and consultancy on acquisition of ICT resources.
Events
Sl No.
Title
Organized by
Duration
Download
01
One Week National Faculty Development Programme (FDP) on Research Support Services: Tools and Techniques
Centre for Information Resource Management(CIRM)
22-28 August, 2023
Brochure
02
One Week National Workshop on Research Support Tools and Services
Centre for Information Resource Management(CIRM)
20-26th July, 2022
Brochure
03
Certificate Course in Digital Marketing
Centre for Information Resource Management(CIRM)
Three Months

March -June, 2022

Brochure
04
One Week National Workshop on Research Promotion, Visibility and Impact: Tools and Technique
Centre for Information Resource Management(CIRM)
September 14-20, 2021
Brochure
05
One Week Online Short Term Training Programme on Research 2.0: From Discovery to Dissemination
Centre for Information Resource Management(CIRM)
March 02-08, 2021
Brochure
06
Two Week First National Workshop On Use of ICT in Teaching-Learning Processes
Centre for Information Resource Management(CIRM)
Aug 27- Sept 10, 2018
Brochure
07
Two-day Workshop on Smart Publishing
Centre for Information Resource Management (CIRM), Central Library, IQAC KU, Research Wing, DST-PURSE
17-18th January,2019
Brochure
08
Training Programme on "ICT for Staff Development"
CIRM
April 04-12, 2016
09
National Workshop & Capacity Building Programme for Public Library Professional of NMl at University of Kalyani
DLIsc and CIRM
June 20-24,2016
10
Seminar on the occasion of "Digital India Week"
CIRM
7th July,2015
11
UGC–DEB Sponsored In-Service Staff Training on "ICT Applications in Office Management
CIRM in collaboration with DODL, K.U
March 18 – 22, 2014
12
Training Programme on "ICT for Staff Development.
CIRM
April 7-17, 2014
13
Training Programme on "ICT for Staff Development"
CIRM
February 25- March 7, 2014
14
Training Programme on "ICT for Staff Development"
CIRM
January 13-22, 2014
15
Inflinbnet Regional Training Programme on Library automation
CIRM in collaboration with Central Library, K.U
December 2-6,2013
16
DEC Sponsored Training Programme on "ICT for Staff Development.
CIRM in collaboration with DODL, K.U
March 19-23, 2013
ICT Milestones in University
| Year | Achievement |
| --- | --- |
| 2002 | Establishment of Internet Centre |
| 2002 | 256-KBPS Leased Line Internet Connectivity through VECC from ERNET |
| 2003 | New University Website Launch (www,klyuniv.ac.in) |
| 2004 | Establishment of Campus Area Network |
| 2005 | Establishment of Lab in Internet Centre |
| 2006 | Round the Clock Internet Facility Started |
| 2007 | 2 MBPS Leased Line 1:1 Mode Internet Connectivity from BSNL |
| 2007 | CIRM shifted to Central Library Building |
| 2007 | The Executive Council in its 8th meeting of the 6th Executive Council held on 22nd March 2007 approved of the renaming of the "Internet Centre" as "Centre for Information Resource Management (CIRM)" |
| 2007 | 256 KBPS Leased Line from ERNET upgraded to 2MBPS |
| 2008 | Up gradation of University Website |
| 2008 | New EPABX system installed |
| 2009 | 2 MBPS Leased Line 1:1 Mode Internet Connectivity from BSNL upgraded to 4 MBPS |
| 2010 | University Grants Commission (UGC) sanctioned Rs 40 Lakhs for upgradation of Centre |
| 2010 | University gets connected to National Knowledge Network through 1-GBPS Link |
| 2010 | New Blade Server became operational |
| 2010 | Project to extend the network further got started |
| 2011 | Installation of OFC connection in Research Scholar Hostels (Ladies and Boys' both) |
| 2012 | WiFi installation in Administrative Building and CIRM |
| 2012 | Setup a Server for internal E-Notice |
| 2012 | Set up a Server for E-Ciculation of Notice |
| 2013 | Interactive results display from our Blade Server |
| 2013 | ICT based Training/Workshop/Seminar started |
| 2014 | Uploading of Distinguished Lectures in Youtube |
| 2014 | Installation of CCTV in Administrative Building |
| 2014 | DHCP Server Upgraded to Windows 2012 |
| 2014 | Data uploaded in AISHE as nodal Centre |
| 2014 | New CMS based website launch |
| 2015 | WiFi installion in PG hostels( Ladies/Boys) |
| 2015 | Data submission in NIRF Portal as Nodal Centre |
| 2015 | Data submission in NIRF Portal as Nodal Centre |
| 2016 | Online Fees Payment Gateway started |
| 2016 | UGC sanctioned Rs 11 Lakhs for WiFi connectivity under Central Sponsored Plan Scheme of NMEICT |
| 2016 | CIRM Shifted to E-Technology Building |
| 2016 | Establishment of Point-to-point Link to Second university Campus |
| 2016 | Setting Up Campuswide WiFi Network |
| 2016 | Set up of Virtual Classrooms |
| 2016 | Design and Development of Institutional Repository through DSpace |
| 2016 | Installation of IP based CCTV in Central Library |
| 2016 | Accessing university e-Resources beyond the Campus |
| 2016 | Design and Development of University Apps and Uploaded in Google Play Store |
| 2016 | Installation of OFC Connectivity in newly establish buildings, Auditorium |
Online E-Resource Services
NEW REQUEST
Sl. No
Related to
Section
Description
Action
Current Status
1
Hardware Maintenance


Token No: 1649852913

Office of the Registrar


Request Date: April 13, 2022

Auto CAD software problem at office of the Civil Engineer

Completed




Action Date:

2
Hardware Maintenance


Token No: 1649852784

Department of Botany


Request Date: April 13, 2022

No internet connection at the room of Dr. Nira Sen Sarkar

Completed




Action Date:

3
Hardware Maintenance


Token No: 1649852707

Department of Botany


Request Date: April 13, 2022

Internet connection problem at 1st and 2nd floor

Pending




Action Date:

4
Hardware Maintenance


Token No: 1649852637

Department of Botany


Request Date: April 13, 2022

PC, Projector are not working at the Smart Class Room

Pending




Action Date:

5
Hardware Maintenance


Token No: 1649852555

Office of the Dean Students' Welfare


Request Date: April 13, 2022

Require additional internet connection at the DSW office

Pending




Action Date:

6
Hardware Maintenance


Token No: 1649852456

Vice Chancellor Secretariat


Request Date: April 13, 2022

No internet connection at the PC of the Hon'ble Vice-Chancellor

Pending




Action Date:

7
Web Site Related


Token No: 1649839537

Office of the Registrar


Request Date: April 13, 2022

Direct Telephone No. of the Registrar kindly incorporated in the Cantact Details

Completed




Action Date: 12/04/2022 12:00 am

8
Others


Token No: 1649837727

Office of the Registrar


Request Date: April 13, 2022

No Internet Connection

Completed




Action Date:

9
Hardware Maintenance


Token No: 1649758297

Office of the Registrar


Request Date: April 12, 2022

Net connection not working properly and require installation of Webcam

Completed




Action Date:

10
Internet Related/LAN Issues


Token No: 1643117993

CENTRE FOR INFORMATION RESOURCE MANAGEMENT


Request Date: January 25, 2022

HP 1410-24G Switch complaint S/N :J9561A

Need to replace….. with HP

Completed




Action Date: 07/04/2022 4:00 pm