Inverted Fluorescence Microscope (Carl Zeiss Axio Vert A1- FL-LED)
Fluorescence microscopy is a commonly used analytical technique in biology allowing the dynamic visualization of targets with high sensitivity and specificity. It can be used to visualize the distribution, colocalization and interactions of various intracellular molecules, simultaneous tracking of various molecular species, inter and intra cellular processes etc. The Carl Zeiss Axio Vert A1- FL-LED microscope installed at S. N. Bose Innovation Centre has filters for Bright field, Phase contrast and three colour Fluorescence application study.
It has objectives of 10x, 20x, 40x and 63x for all the above applications making it a versatile platform for everyday fluorescence microscopy requirements. It has a high sensitivity camera for acquisition of high resolution publication grade images and can be accessed on demand.
Only Mammalian cells are allowed inside for visualization/imaging.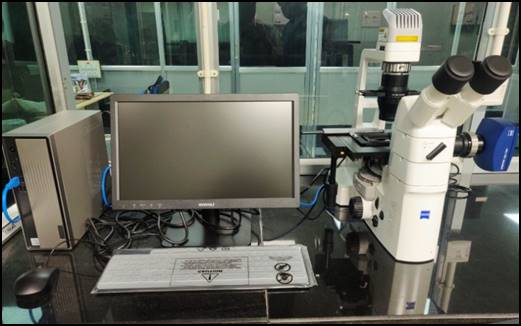 Usage Charge (INR)
Internal
Rs. 200 per hour
External
Rs. 400 per hour
For Technical Details
Akash Bhattacharya
N. Bose Innovation Centre (Instrumentation), KU