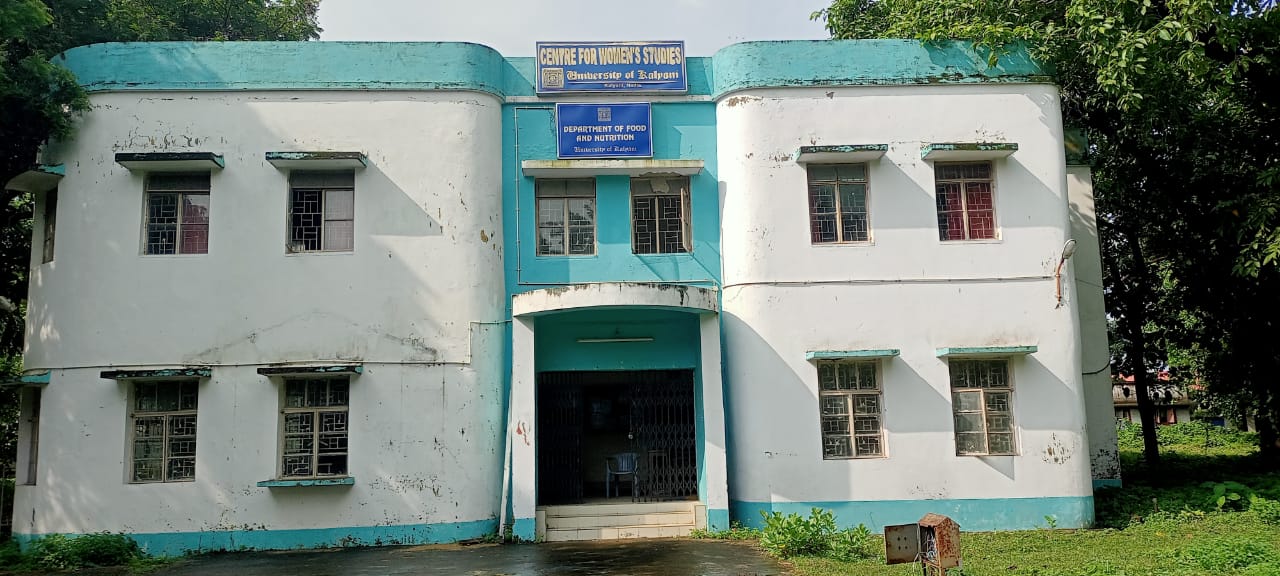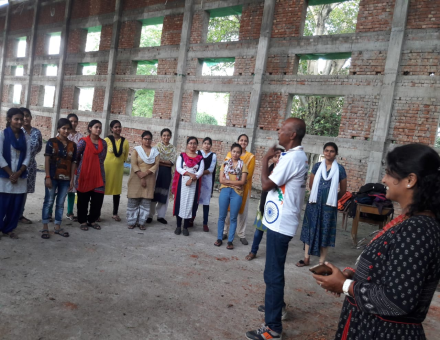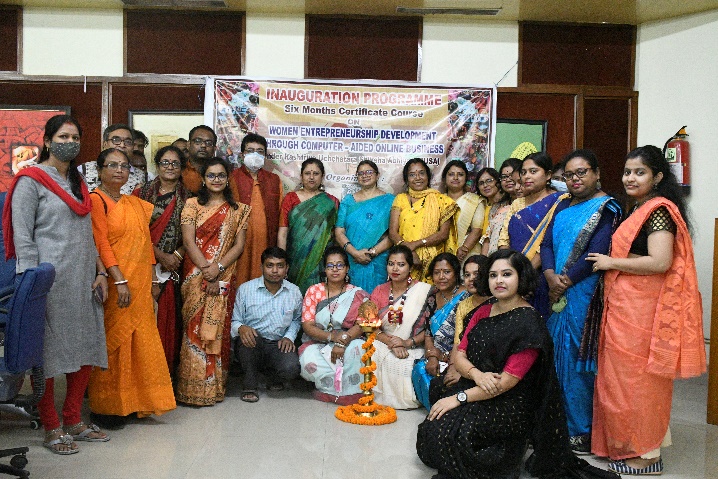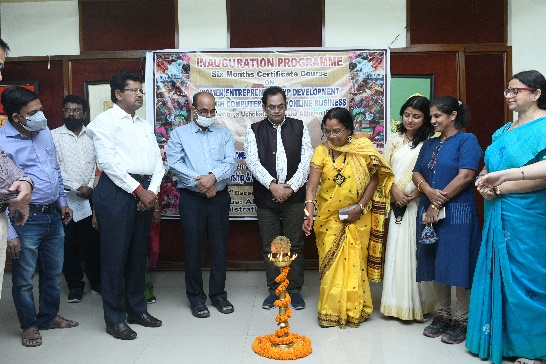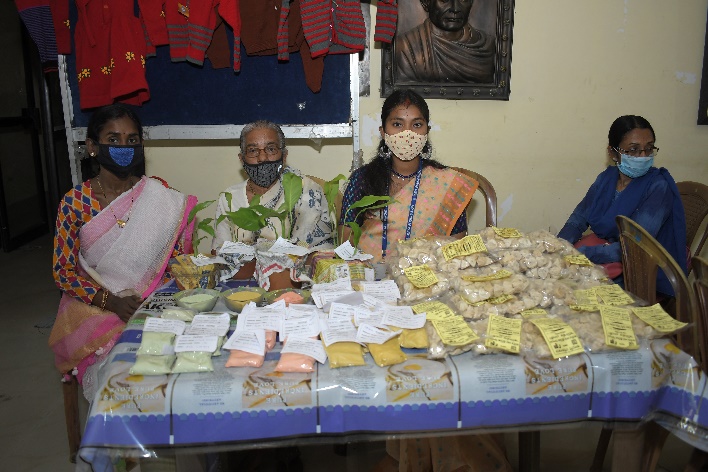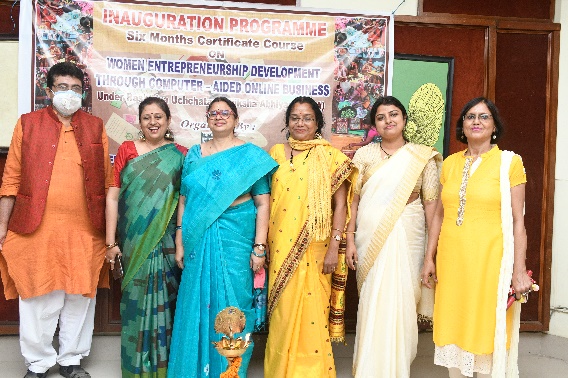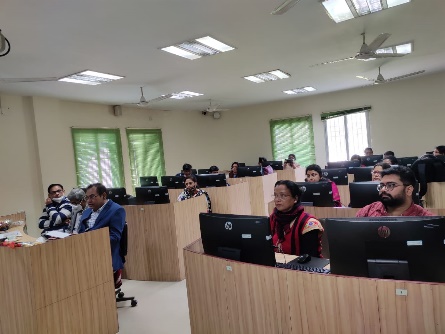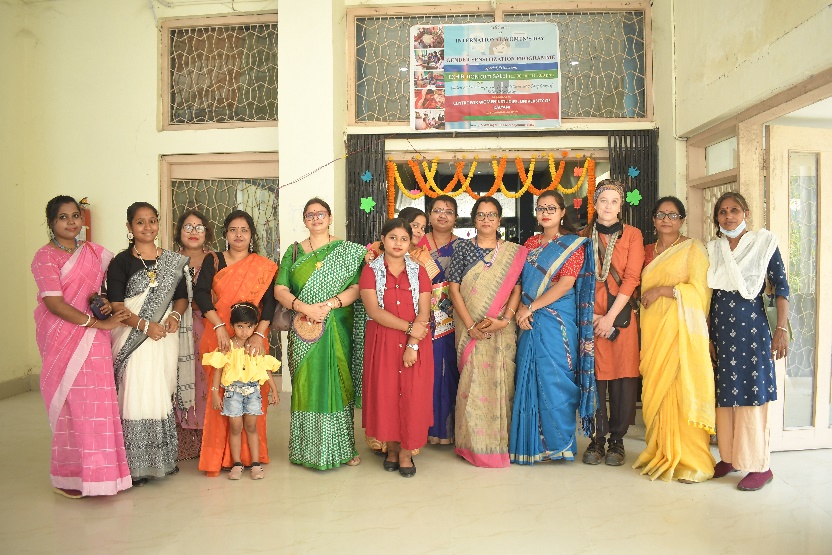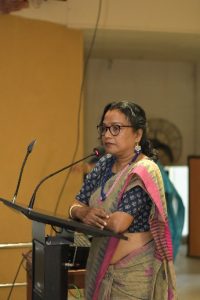 At the backdrop of 'Women Empowerment Year' in 2001, the importance of Women as an independent target group was taken into consideration since they represent 48.3% of our country's total population. The late 70s and 80s incorporated Women's Studies as a discipline within the University system, but its diversity extended in 1990s. The diversity promised to encapsulate the lives of men, third genders and other groups marginalized on the basis of their sexual orientation. This necessitated the opening of Women's Study Centre in universities and colleges designed to act as catalysts for promoting and strengthening Women's Studies through teaching research curriculum, field and extension work, training and continuing education.
A marginal upliftment in the socio-cultural and economic condition of backward and general women communities of Nadia district throughout the year did not ensure advancement in the women psychology, confidence building and self-sustainability required for their peaceful existence in the family as well as in the society. The common problems such as health education, livelihood, domestic violence, security, poverty, gender equity still need to be addressed through knowledge, dissemination, adoption, adaptation and final implementation. The Centre for Women's Studies at Kalyani University has implemented itself in several directions with multiple goals for improvising the conditions of women communities of mainly Nadia district through teaching, facilitated research, development projects, counseling, collaboration (regional, national and international), networking, curriculum development, capacity building, workshop, community sensitization awareness programmes, industry internships. Since it is an agro-based district with intense agricultural activities in the adjoining areas the Centre will make it a mandate to empower women communities with agro-based S & T interventions as well as natural resource management.
Founded in 2013, the Centre for Women's Studies at University of Kalyani is among the most well-established bases for feminist and gender-oriented teaching and research. It was established by University of Kalyani under the purview of University Act and statute on its own as an interdisciplinary Centre. It started functioning formally from December 12, 2013 as a standalone centre collaborating with different departments of the University. Incidentally this is to mention that the centre functions under funding and guidance of the University.
Women's studies is an academic field that draws on feminist and interdisciplinary methods in order to place women's lives and experiences at the centre of study, while examining social and cultural constructs of gender; systems of privilege and oppression; and the relationships between power and gender as they intersect with other identities and social locations such as race, sexual orientation, socio-economic class, and disability" – Shaw, Susan M.; Lee, Janet (2014-04-23). Women's voices, feminist visions: classic and contemporary readings (Sixth ed.) New York, NY: McGraw-Hill
In order to achieve UN Sustainable Development Goal of Promoting Equality & Empowerment of Women, University Grants Commission (UGC) has promoted, strengthened and given direction to the Women's Studies programme in India since the VII Plan period. Women's Studies Centres have been established in the University System in the VIII, IX and Xth XIth and XlIth Plan periods. This radiated from greater impact of poverty on girls, gender disparity, safety and security. Development of Centre for Women Studies in teaching arena seeks to strengthen the broader aspect of women as the equal partner for upliftment of the nation, equal participation in policy making decision, providing equal opportunities in holding high positions in universities, industry, civil services or other important organizations in nation building, appointment of female teachers, women-oriented infrastructure and facilities, distress relief due to domestic violence particularly in rural and interior village of the country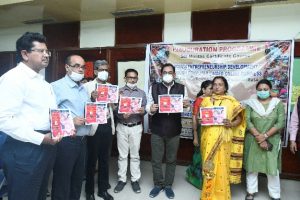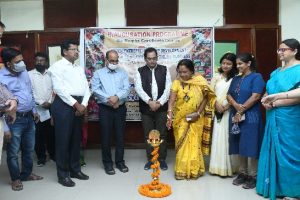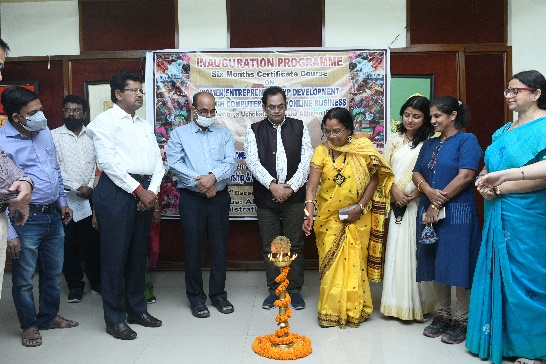 Achieving Gender Equality
Framing and enabling programmes to empower woman and to address diverse needs of woman.
Determined for upliftment of targeted women beneficiaries from Schedule Caste and Tribes, women with disabilities, women living in unsafe environments, exploited sex-workers, women living in conflict areas, women in conflict with law, homeless, destitute & abandoned women, uneducated & unskilled single women, elderly & sick women etc.
Aimed to excel in teaching, research and extension activities on the current and emerging women issues and mitigation options.
Advancement in interdisciplinary activities with innovative pedagogies to inspire the new generation scholars and activists.
Community Awareness and Sensitization programmes and workshops
Training programmes for skill development at different levels of region and communities
Existing and emerging technological approach for livelihood upliftment
Certificate courses with lab to land transfer programmes
Computer skill development for the women beneficiaries for adoption of more digital platform
Entrepreneurship development
Developing women's organisations
Confidence building counselling workshops
Agriculture
Horticulture
Animal Husbandry
Aquaculture
Apiculture
Socio-economc
Cottage industry
Forestry
Food processing
Eco-friendly products
Dr Soma Mukherjee, Department of Environmental Science
Dr Ashimananda Gongopadhyay, Department of Folklore
Dr Susmita Lahiri, Department of Ecological Studies
Dr Shyamashree Sengupta Biswas, Department of Bengali
Dr Bibha Kumari, Department of Hindi
Dr.Sumit Mukherjee, Department of Political Science
Smt.Leena Gangopadhyay, Chairperson of West Bengal Commission For Women
One Day International Webinar was organized on Advancing Gender Equity: A Multidimensional Approach. Speakers from Mexico Sweden and Bangladesh have delivered lectures.
Speaker: Prof. Dr. Sudip Dutta Banik, Department of Human Ecology, Centre for Research and Advanced Studies, Mexico.
Speaker: Prof. Dr. Susmita Chakraborty, Department of Folklore, Rajshahi University, Bangladesh.
Speaker: Prof. Dr. Suparna Sanyal, Department of Cell and Molecular Biology, Uppasala University, Sweden.
Outreach and Extension
Community Outreach programmes were also undertaken on woman health issues time to time involving nearby village women during last 5 years
Interactive seminars and conferences
National and international seminars, conferences, community outreach programmes and awareness programmes were conducted on relevant issues from 2014 to 2022.
Women Day celebration – Lecture series were conducted on various woman related issues every year in Women's Day.
A National Seminar on GENDER EQUALITY TODAY FOR A SUSTAINABLE TOMORROW was organized on March 8, 2022 along with an Exhibition-cum-Sale.
M. Phil – M.Phil courses were conducted for the sessions 2015-17 (8 students) and 2018-2020 (2 students).
Certificate course on Women Entrepreneurship Development through Computer Aided Online Business (Blended Mode) for 6 months; number of students 15; Course Registration Fee: Rs. 1000 only.
MAHAMADUL HASSAN DHABAK
NIHAR MANDOL, ASSISTANT TEACHER
SARBANI MAITY
DEBLINA GHOSAL, ASSISTANT PROFESSOR
DIPANWITA KARMAKAR
PRIYANKA GUPTA
GIBANUR RAHAMAN
KOUSIK MALLIK
RIMA GHOSH, PROJECT ASSISTANT, JUST TRANSITION RESEARCH CENTRE, IIT KANPUR
SANDIP SAHA
Grants and funding: RUSA COMPONENT 10, UGC; GRANT AMOUNT – Rs. 250000
Primarily University will focus on the following
a) Introduction of foundation short term certificate courses in women Studies in undergraduate level for students of all streams – Three/ Six months short term course on various aspects of women studies will be introduced along with project works.
b) Undergraduate students of all streams shall be encouraged to take up one subject on woman studies under UGC prescribed CBCS credit system like
Woman Rights constitutional and legal
Women Entrepreneurship
Women participation in Economic Development of the Country
Problems faced by Woman Executives
Sexual Harassment on Woman in Workplace and its Remedies, in one semester of their entire course.
c) Introduction of on line foundation / short term courses on women studies through the Distance Education Wing of the University
d) Conducting workshops to plan restructuring of courses and syllabus formulation.
University will undertake Documentation, Dissemination and Library Collection, translation of outstanding papers/research reports into Indian Language, Production of Reference and Teaching Materials and publications in Nature and Intellectual Journals. All the publication including teaching/learning materials and video documentaries shall be uploaded on the Centre's website.
A journal will be published on woman issues and other related matters including publishing there the activities of the centre
Publication of Bengali translation of various Acts, Rules, and Regulations related to women's rights and privileges will be undertaken.