Department of Biochemistry and Biophysics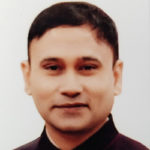 Professor(Dr.) Angshuman Bagchi
Head of the Department
Professor of Biochemistry
Departmental Phone No.

033-2582-8750- ext. 293, 294

Departmental E-mail Address




The Department of Biochemistry and Biophysics was established in 1981. It is one of the well-known Departments of our University. Several students who have passed out from this Department have joined different national and international institutes for their research. PhD scholars from the Department have also joined research laboratories of repute both aboard as well as in the country. The Department has produced several distinguished alumni. The Department motivates students to wander into the realms of the fascinating world of Biology in the true spirit of learning. The goal of our Department is to impart quality teaching and nurture young talents to achieve excellence in research. Our vision is to provide a very conducive platform to the students in their academic pursuits in an amiable atmosphere. The Department conducts M.Sc. course in Biochemistry and M.Sc. course in Biophysics, i.e., the two M.Sc. courses have been running under one roof of the Department. The Department has the intake capacity of twenty-six (26) students each for the M.Sc. courses in Biochemistry and Biophysics. The faculty members of the Department are involved in teachings and researches in Basic Biochemistry, Basic Biophysics, Cell Biology, Microbiology, Molecular Biology, Genetics, Cancer Biology, Immunology, Cellular Signaling, Parasitology, X-ray crystallography, Molecular Modeling, Bio-informatics etc. The faculty members of the Department are also involved in strengthening other related Departments of the University by taking postgraduate classes and also collaborating with them in their research pursuits. The extramural projects aided by Govt. of India (DST, DBT, ICMR, DAE, CSIR, and UGC) as well as of State Govt. are undertaken by the faculty members. The Department has already gained attention from leading scientists and academicians which have led to different collaborations at the National and International levels. The Department of Science and Technology (DST), Government of India, has identified this Department under the FIST (Fund for Improvement of S&T Infrastructure in Universities and other Higher Educational Institutions) Program for the third time. UGC has also identified this Department under SAP-DRS-II (Special Assistance Programme-Departmental Research Support).
Programmes offered
Sl. No.
Programme
Duration
Intake capacity
Admission criteria
1
M.Sc. course in Biochemistry
2 years
26

The candidates should be a student of B.Sc (Honours)

in

Chemistry
Biochemistry
Zoology
Physiology

2
M.Sc. course in Biophysics
2 years
26

The candidates should be a student of B.Sc (Honours)

in

Physics
Chemistry
Biochemistry
Zoology
Physiology
Microbiology
Molecular Biology & Biotechnology
Faculty Profile(Alphabetical Order)
Department Details
Basic Biochemistry
Basic Biophysics
Cell Biology
Molecular Biology
Genetics
Radiation Biology
Cancer Biology
Immunology
Cellular Signaling
Parasitology
Nanobiology
X-ray crystallography
Computational Biology & Bioinformatics
Microbiology
Supra-molecular Chemistry
Instruments: Isothermal Titration Calorimeter, Protein Purification Chromatography System, Real Time PCR System, FPLC, Flow-cytometer, Ultracentrifuge, CO2 incubator, BOD incubator, Bio-Safety Cabinet etc.
Library: All books are available in the central library.
Computer: The Department has a computer lab which is presently under renovation.
Virtual Classroom and Online learning: One smart classroom is situated at the ground floor of the Department. Another seminar room has been decorated with a hanging display system for power point presentation and screen; moreover the room has recently been furnished.
Ongoing
Investigations on the Development of Tetracycline-entrapped Calcium Phosphate Nanoparticle (Tet-CPNP) as a Potential Drug against Tet-resistant Pathogenic Bacterial Diseases, with Special Emphasis on its Antibacterial Potency in Mice Infected with Diarrhea-causing and Tet-resistant Bacteria and its Mechanism of Action on the Resistant Bacteria.
PI: Prof. Tarakdas Basu / DBT-Nanobiotech / 63.5784 L / 2019 to 2022.
Moving beyond the folds: Design of DNA origamis as breadboard mimicking scaffolds and their interactions with nanoparticles through SERS.
Co-PI: Prof. Tarakdas Basu / DST-SERB / 60.90 L / 2019 to 2022.
Studies on Immunomodulatory and Therapeutic Efficacy of Corchorus capsularis L. Leaf Active Component(s) Against Experimental Visceral Leishmaniasis With Special Reference to Resistant Parasites
PI: Prof. Tapati Chakraborti, Co-PI: Dr. Angshuman Bagchi / DST-SERB / 46.0 L / 2019 to 2022.
Mutational and structural analysis Centering Gp130 and its interaction in Cancer and AIDS: An in sillico Approach to Explore Resisual participation in Cellular Signalling.
PI: Dr. Rakhi Dasgupta / ICMR / 18.0 L / 2019 to 2022.
A Mutational Study of a small heat shock protein OsHSP 18.0 (Class-II) and its function in both Biotic
and Abiotic Stress Responses in Rice: A Traditional Approach
PI: Dr. Rakhi Dasgupta / West Bengal State DST / 18.0 L / 2019 to 2022.
Full Time: 26
Part Time: 1
UGC-SAP-II-DRS-II-Sponsored National Conference on "Stress Response and Diseases (SR & D)" during March 6-7, 2020
UGC-SAP-II-DRS-II-Sponsored National Symposium on "Modern Perspectives of Research and Development in Biochemistry & Biophysics", during March 14-15, 2019
IISER-Kolkata, IICB, Bose Institute, Jadavpur University, Calcutta University, IACS, Viswa-Bharati, Bidhan Chandra Krishi Viswavidhyalaya, CDRI-Lucknow
i) Integrated (B.Sc. and M.Sc.) courses in Biochemistry and Biophysics
ii) Creation of Bioinformatics Centre under the Department of Biochemistry and Biophysics
iii) Creation of Centre for Molecular Medicine under the Department of Biochemistry and Biophysics