IT Infrastructures:
Two campus of the University have been connected with point to point wireless link for all kind of access from the main campus.
Wi-Fi facilities are extended to the whole Campus for all communities.
All admission systems have been made online.
All results are published through the University Website.
Complete e-tendering process is followed for the procurements.
Circulation of Notice, Order, and Circular are done through University Website.
Web based access has been provided to all faculty members and Research Scholars so that they can access Journals so and e-books subscribed by the University from outside the Campus and form their home.
Mobile Apps. For the University of Kalyani has been developed and placed into the Google Play Store which has been integrated into the University Website.
Official e-mail facilities are provided to the faculty members through E-Circular System for staffs and Research Scholars. E-Circular System to assist in reducing paper work, time taken for movement of papers in official work and better utilization of human resources
Salaries of all employees are computerized using developed software by the University.
Salary statements are circulated through e-mails of the faculty members and staffs.
Salaries are disbursed into the in respective employee through back account.
Remunerations and Travelling allowances are disbursed through back account of individuals.
Attendance systems of Research Scholars are made through biometric.
The University of Kalyani is merging toward paperless system gradually which will be achieved shortly.
Most of the faculty members disseminate their class through LCD projection system as each department has Smart Class Rooms.
Many faculty members provide soft copy of the course materials through their Website or through mail systems.
Some of the departments collect students' feedback of each course through online system.
Administrative departments use computer based file/letters tracking systems.
Data Centre with high end Blade and Rack servers hosting different applications such as Websites, DNS, proxy, Email, Network Monitoring System (NMS)
Network covering over 40 buildings spread over entire campus with Ethernet technology and fibre backbone and OFC network of 14 kilometres laid across the campus
Networking equipment comprising of more than 66 network switches and 2 Routers
Wi-Fi equipment comprising of 35 wireless Access Points
UTM cum Firewall (Security) Devices – Cyberoam, Juniper
Rack Server : HP & Dell
More than 800 wired network nodes across both campuses.
Design and Development of Institutional Digital Repository
Online access to e-journals through Campus LAN
Subscription of Microsoft Volume Licensing Software (VLSC)
LAN Based Software MATLAB & Simulink , ArcGIS with Tools access from CIRM Server
E-Circular System to assist in reducing paper work, time taken for movement of papers in official work and better utilization of human resources
Uploading Distinguish Lectures and Special guest Lectures in YouTube & facebbok Live
Opening of Facebook page, Twitter of University of Kalyani
Uploading the pictures of University related pictures , paper cutting
Arranging job interview & CAS through Video Conferencing
Integrating Important links (UGC, AICTE,NMEICT,INFLIBNET,CEC,NPTEL, NATS etc) in our University Website
Integration of Payment gateway from State Bank of India (SBI) for submission of fees online
Regularly organize ICT related programs for university faculty members, research scholar, students and other staff.
Setting up Virtual Classrooms/E-Classroom using Google & Zoom Cloud Platform
Setting up IT and EPABX Helpdesk
University web mail. Providing Mail Account with University's Domain Name(xxx@klyuniv.ac.in)
Anti-Virus and End Point Security (EPS) with subscription update is provided at the server and Gateway Level
Arranging interview for abroad candidates through Video Conferencing
Capacity building programme for Library professional, School teachers
Conducted Online Classes using Google & Zoom Cloud Platform
Providing NPTEL Video Lecture
Under Developing ERP System Name as KUMS ( Kalyani University Management Systwem)
Integration of Payment gateway from State Bank of India (SBI) for submission of fees online
Campus Networking of the University:
A Local Area Network with 24-Core, 12-Core and 6-Core Gigabit OFC backbones (both Single and Multimode) connecting to 22 buildings was established in 2002. In additional 5 buildings are connected in the 2010 and 6 buildings more in the year 2016. The network connectivity provided to about 800+ nodes throughout the campus and departmental LAN by UTP and STP Cable. The all building and department have separate VLAN. Now This connectivity extended to Research Scholar Hostel . We are establishing Wi-Fi zone in the Administrative Building & CIRM Building.
At present CIRM establish & maintain the 1 Gaps Link connected through NIC (National Informatic Centre) under the NME-ICT Project Govt. of India. The end-to-end backbone connectivity provided by the BSNL (Bharat Sanchar Nigam Limited), India and Secondary Link 50 Mbps lease line provided by Sify communication. The teachers, scholars, students, officers and staffs of the University can access to this centralized facility
University Campus LAN Architecture: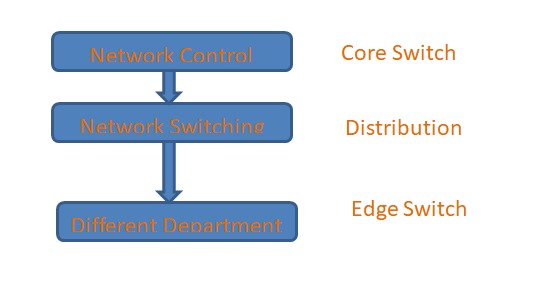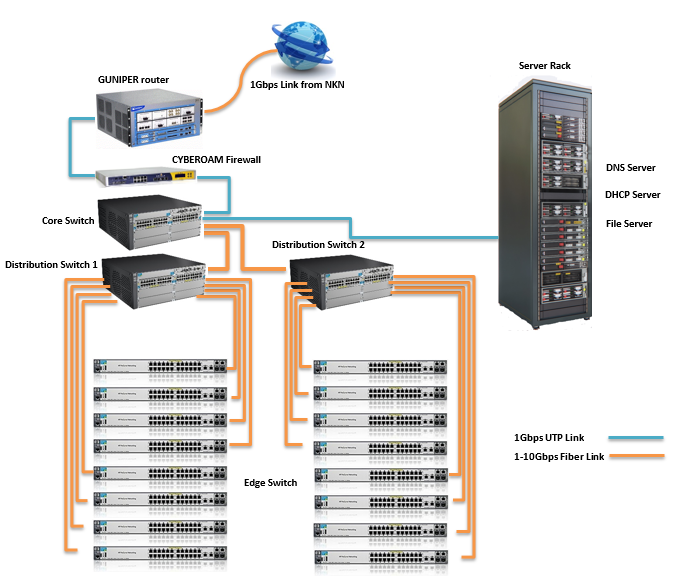 WiFI Architecture:
The University of Kalyani installed WiFi system for its whole campus including all hostels. Point to point WiFi along with fiber optic backbones are provided for the same. The figure below shows the campus outdoor Wi-Fi Architecture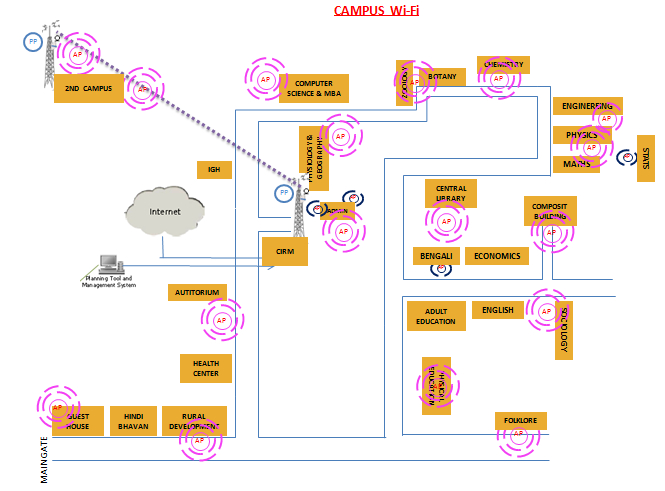 Point-to-Point Link in Second Campus:
The university of Kalyani installed a Point-to-Point radio link from Main Campus to Second Campus (Education Department) . This second campus is 2.4 km away from the main campus (road distance). Figure below shows the GIS map for the same.