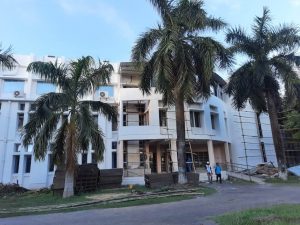 The University Library system was initiated in the year 1961 after the establishment of the University of Kalyani in the year 1960. The present library building was inaugurated in the year 1979. At present, the total area of the Central Library is 2805sq.m with its eco-friendly green campus. Central Library is having a healthy collection of physical as well as electronic resources to satisfy the need of its user community. Physical resources of the library are managed through the SOUL 2.0, integrated library management software. Along with the book database (more than 1.5 Lac), back volume journal database, theses database, special collections etc. have been maintained by the library, which all are OPAC enabled. Subscription-based e-journals and e-books, bibliographic databases with perpetual access have been subscribed by Central Library with the University's financial support, along with the e-Sodhsindhu Consortium electronic resources. Renowned foreign and Indian print journals have also been subscribed by the library to support and maintain the academic excellence of the University. Library also played an important role to maintain the academic integrity of the University by analyzing the research content through the PDS software provided by the UGC, INFLIBNET Centre i.e. Ouriginal software. Moreover, Institutional Repository has also been created with the DSpace software which covers many important documents as well as the old University question papers (PG and UG level), Ph.D. theses of our University and many more. Most of the theses of our University are also accessible from the National Electronic Thesis and Dissertation Platform i.e. http://shodhganga.inflibnet.ac.in/. Presently the entire Central Library building is under renovation including the installation of an elevator keeping intact all the library services extended to its users.
Building plan: Click Here
Different Sections of the Library:
The Central Library is a three storied building situated in the eastern side of the Administrative Building, University of Kalyani.
Gr. floor:
Property /bag deposit counter
Registration section,
Open access stack room cum reading room,
Circulation section
Stack rooms (closed-I & II)
Data entry section
Processing section
Room of the Assistant Librarian
Gents wash room.
1st floor:
ETD Lab
Computer Lab –II
Periodical & thesis section,
Bound journal section
Stack room-III (closed)
Bound periodical Section
Room of the Librarian
Office of the Central Library
Ladies wash room
2nd floor:
Open reading area with small garden,
Reading room (AC), Thesis Section & Meeting room,
Seminar Room,
Store Room
Reference Section,
Stack Room-IV, V, VI (Closed)
Two Gents Washrooms
Library hours:
Monday to Friday- 9:30am-7:30pm
Saturday- 11am-5pm
Important Forms: