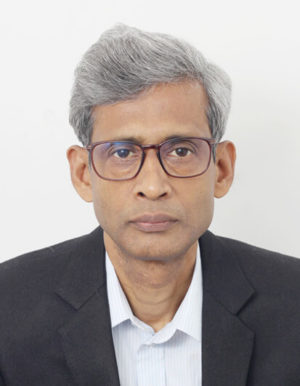 Pro Vice Chancellor
Prof. (Dr.) Goutam Paul
M.Sc. (CU First Class First), M.Phil., Ph.D., D.Sc., FIUPS, FABMS
A Message From The Pro-Vice-Chancellor of The University
The Kalyani University is a highly reputed State-Aided University in our State. The University was established in 1960 at Kalyani City by the Govt. of West Bengal under the Kalyani University Act enacted in West Bengal Legislative Assembly. The Kalyani University is now governed by the Kalyani University (Principal) Act, 1981 and the Kalyani University (Amendment) Act (up to 2017).The University is also regulated under the administrative control of the Department of Higher Education, Govt. of West Bengal and academic control of the University Grants Commission (UGC), Govt. of India.
I feel proud and honored for taking over the Charge of the Office of Pro-Vice-Chancellor as first Pro-Vice-Chancellor of the Kalyani University as per Section 10 A(1) (a) of the Kalyani University (Amendment) Act, 2017. On this great juncture, I convey my best regards and profound gratitude to hon'ble Chancellor of the Kalyani University and His Excellency The Governor of West Bengal for his kind advisement in the advancement of the University during his tenure as hon'ble Chancellor. I also extend my profuse thanks and gratefulness to our hon'ble Vice-Chancellor for his leadership in driving the University in a vibrant manner. I also convey my best wishes to all Officers, Faculty members, Staff members, Present students and Alumni of the University to mark the sparks.
The Kalyani University is one of the best affiliating Stated-Aided Universities in our State. As assigned to under the mandate of the hon'ble Chancellor the University is contributing to society through the pursuit of education, learning and research at the highest international levels of excellence. I feel proud to re-iterate here that our University has achieved the Grade "A" University tag with a CGPA of 3.12 as evaluated under accreditation methodology of NAAC in 2016. Though, unfortunately, the University has receded during the last 2 year since 2017 as evidenced from the rank sheet of NIRF ranking framework of MHRD, Govt. of India. Hopefully, we could be able to revert the receding trend in near future by exhibiting our strengths in teaching, learning, research, inclusiveness and outreach activities. I profoundly believe that we could be able to transform our University into a University with Potential for Excellence by potentiating the quality of teaching, learning and research in tune with the principle of equity and access. Certainly, the community inhabited within the jurisdiction of our University would be benefitted through our best practices. We are determined to serve our esteemed University.
With all good wishes,

Prof. (Dr.) Goutam Paul
Pro-Vice-Chancellor
Kalyani University